How to work profitably in times of uncertainty
Ann-Katrin Gallinat
February 2022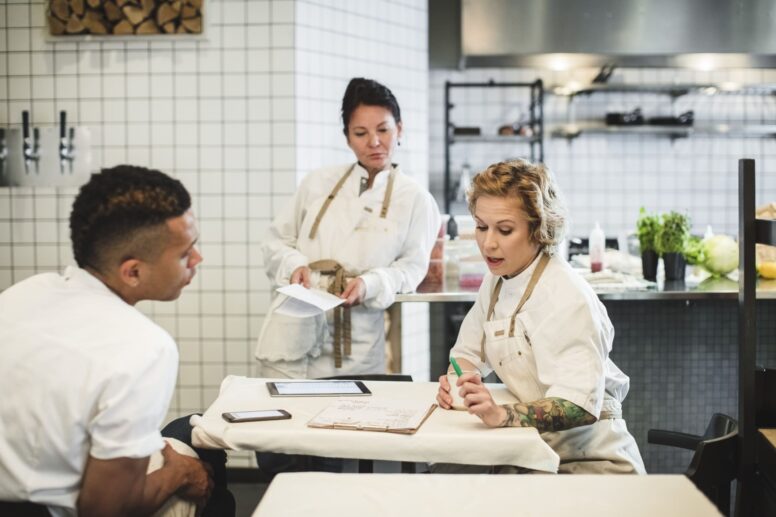 Regardless of whether you are opening a new restaurant or have been running one for many years, a major challenge is to maintain profitability in times of uncertainty. Tough conditions require intuition and innovation in order to stay in business. 
Here are 5 operational recommendations that can help any restaurant navigate through uncertainty:

1. Fewer items on the menu
With a smaller menu, you not only reduce the complexity of work processes, but you can also offer more fresh produce. Partner with your supplier or producer to invent new operationally efficient and profitable dishes. 
An example: Dominik Klier and Theo Lindinger offer exciting potato dishes from their compact kitchen of their potato stand "Caspar Plautz" at the Viktualienmarkt in Munich. The combination of high-quality potatoes with fresh market products and unusual spices makes their dishes so excitingly different. Theo has learned the following since opening his booth: "The potato is something simple and yet it also has something emotional, because many people associate childhood memories with it". 
2. Focus on high-margin food
Avoid pricing your food according to competitors; instead, take a data driven approach and make decisions according to the numbers in your point of sales system. Make an analysis to find which dishes were the most popular and which dishes had the highest contribution margin. Adjust your menu: highlight menu items that have a good contribution margin and lower sales performance by putting them at the forefront, or on a specials page.  
3. Online Marketing 
It is increasingly important to position your restaurant, doing so will help you to communicate your value proposition clearly to your guests. Gain attention with clear offers, events, and promotions on different online and offline channels to find out how to best attract new guests.  
Combine our powerful DISH Solutions with marketing activities to boost your restaurant online:  
Help your potential guests find the information they need – create your own detailed and independently manageable online presence with DISH Website 

Make your restaurant visible and create awareness by managing your profile on the most important online restaurant channels

Simplify your reservation process and save valuable time by offering direct online reservations with DISH Professional Reservation (at 0% commission) 
 For inspiration on how to market your restaurant online, check out the social media profiles of other restaurateurs. Learn how they present food and drinks in their Instagram stories, thematically and visually. Note that, hashtags are important for your restaurant's visibility on any channel. Examples of successful Instagram accounts are: Salt & Silver (approx. 29,000 followers), Beets and Roots (approx. 11,000 followers), Man vs Machine Coffee Roasters (approx. 17,000 followers), Malefiz-Café Bar (approx. 8,000 followers).
4. Additional revenue streams
Additional revenue streams provide more stability, especially during times of uncertainty. If you have access to high quality products that are not sold in retail stores, consider offering it online or providing take-away. Become less dependent on one channel by creating an additional revenue stream for your restaurant through out-of-house business. Find out more about DISH Order, the 0% commission solution to take online orders. 
Another option might be to extend your current offer to cooking boxes for pick up delivery. 
Example: Even before the COVID-19 crisis, the owners of the Restaurant am Golfplatz in Bad Mergentheim had built up several revenue streams. Apart from catering at weekends, they regularly deliver to local companies from Monday to Friday. The team around chef Andreas Bundschuh also concentrates on a fast lunch service for business guests, who are offered fresh daily meals during their break time. 
5. Increase turnover per guest 
Experience shows that "active selling" increases turnover enormously. This approach not only raises your employee satisfaction but also boosts the enthusiasm of your guests. 
Through special themed events you can show your passion and knowledge for a specific area (gin-tasting, wine tasting, beer pairing). You could also feature a supplier as an expert in your events and create a partnership in that way. Promoting special events and managing your guests' reservations can easily be done with DISH Professional Reservation. 
Example Little London in Munich: "As a prime steakhouse we are constantly looking for novelties and passionate farmers from all over the world. The best supply us exclusively with top products. We deliberately focus on quality instead of quantity, avoid factory farming and, depending on availability, also source from regional markets. We regularly organize meat tastings for connoisseurs. For these tastings, we select premium cuts from different countries and different degrees of maturity to be tasted in varied ways. Recently we have also started to offer all cuts for home grilling". 
Fewer items on the menu and a focus on profitable actions have the potential to help you navigate through uncertainty and beyond: introduce an alternative menu, increase your online presence, try new events, and boost your business!  
Ann-Katrin Gallinat interviews restaurateurs from all over Germany. She collects current topics and presents interesting ideas, approaches, and strategies of her interview partners. 
Tips & Tricks
Often, the experience of the restaurant is lost when the food is delivered in a plain cardboard box and cheap, thin plastic containers. The ingredients look as limp as if they have been in the sauna too long, the walk over the cobblestones has bowled everything around unappetisingly.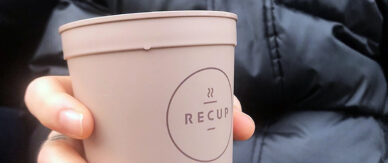 Industry trends
The figures for food waste in Germany and around the world are appalling. In Germany, approximately 18 million tons of food are thrown away every year. A large part of it is produced in the catering trade. Every EU citizen wastes an average of 173 kg of food per year. Climate change expert Chad Frischmann says that reducing food waste is one of the most important things we can do to combat climate change.
Ann-Katrin Gallinat
July 2020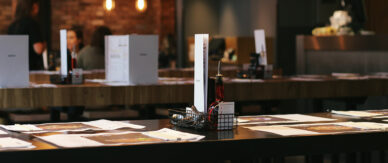 Tips & Tricks
"Never change a running menu": Many restaurateurs are afraid to change their menu. It's like opening an old box you keep in the attic. The box is dusty, and you don't know exactly what's inside. You would rather not touch it. Because who knows if you can close the box once you have opened it?