Professional flyers in five minutes with DISH Promote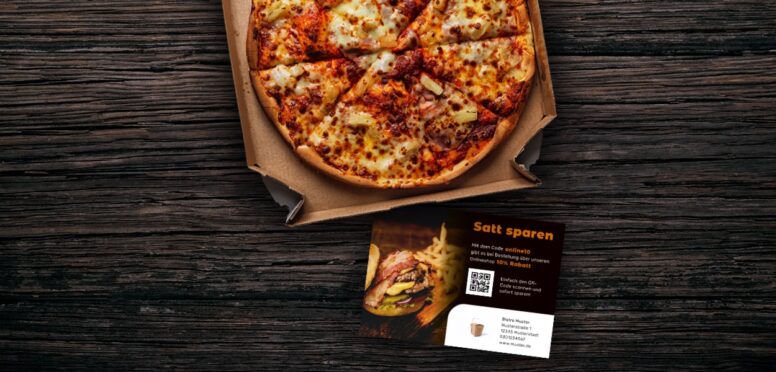 Hospitality business is turning digital: you have your own website, take orders with your webshop, your guests can make reservations online, and can check into your restaurant with their smartphone. But there is one resource you shouldn't forget: paper.
Flyers help you reach people on the street, as well as guests who will order takeout or delivery from you. This is where flyers can help to gain a competitive advantage. Since you can put them in your guests' packages and bags you can start special promotions, reward returning guests or you can attract new customers to your webshop – after all, you want your customers to order from your own webshop, not from another delivery service.
We offer you a service that allows you to print high-quality flyers quickly and affordably 
Until now, creating flyers was a hassle, expensive, and not very flexible. Most of the restaurateurs are no graphic designers. Now we offer you a service that allows you to print high-quality flyers quickly and affordably in DIN A6 format, as well as label rolls. With DISH Promote creating and ordering promotion material can be done in a few minutes:
Register for free: Go to dish-promote.de and create your account. Since DISH Promote is a cooperation with Flyeralarm, your DISH account does not work.
Choose a format

: You can choose between flyers or label rolls. In our example we choose "Flyer classic".

Choose a quantity

: 500 flyers cost €34.90. You can have up to 20,000 flyers printed in different quantity units.

Set a background

: First, you can choose a background for your flyer. There are already twelve different examples, ranging from "Pizza", "Burger", or "Schnitzel" to "Asian". The picture will automatically be added to your flyer.

Define voucher codes or discounts

: You can also synchronize your code and the amount of the discount with your DISH Professional Order.

Pick a header for your flyer

: There are four options to choose from.

Check your web address and your contact details

: DISH Promote automatically includes the data that you have registered with. Please check these settings.

Optional: Upload your own logo

: Personalize the flyer with your logo for greater recognition.

Order your flyer

: All set? Then add the flyer to the shopping cart and pay. You will receive the flyers in a few days.
The creation of label rolls is similar. The small stickers are printed with the name of your restaurant, a QR code and a website. You can stick the labels onto your existing flyers, receipts, or other materials to promote your restaurant and webshop.
In DISH Promote you enter the web address of your restaurant or webshop, from which a QR code is created. There are eight background colors you can choose from. 500 labels on a roll cost €59.90, of course you are able to order more. 
Succeeding with the right discount and voucher code strategy
The benefit of flyers and labels is that they often lie around your guests' house or hang on their refrigerator door. This means that your restaurant is always in sight. This is something you cannot achieve only digitally.
Another benefit of DISH Promote is the flexibility of ordering. You can create smaller amounts of 500 or 1000 flyers and issue discounts in a very targeted way so you can measure the success through the traceability of the orders received with the codes.
An example of using discounts: Print a flyer with a higher discount for new customers who previously ordered through a different delivery service. Or put a flyer with a different code and discount in the package of a customer who has ordered a large amount. After all, these guests are profitable in the long run. Try a lot, be creative, and adjust your discount and voucher code strategy accordingly.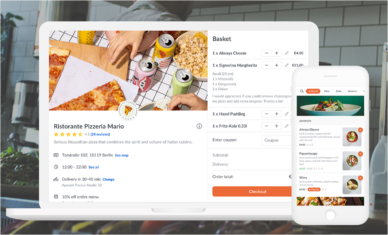 Business knowledge
In qualità di partner di fiducia dei ristoratori, abbiamo sviluppato DISH Professional Order che ti consente di liberarti dalle costose piattaforme per gli ordini online. In questo modo puoi ricevere gli ordini direttamente dai clienti, risparmiare sulle commissioni e tenere sotto controllo i costi mensili.